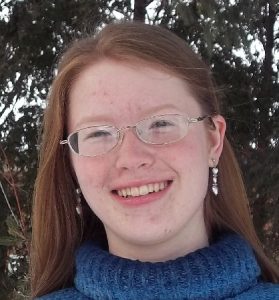 Featured Interview With Benita J. Prins
Tell us a little about yourself. Where were you raised? Where do you live now?
I've lived most of my life in small-town southwestern Ontario, but my extended family lives all over the place, so I've travelled all the way out to BC and all the way down to Florida. I love travelling! So far, my favourite location has been the mountains in Kentucky. Thanks to all this travelling, it's probably a good thing I don't have any pets – but I do have five little brothers (as well as an older one and two younger sisters) who take up just as much energy and are better than pets.
I love to sing and somehow my love of music has made its way into almost every one of my books so far. I don't intend it, it just happens. I also play piano and organ, but if I had to choose one of the three I would choose singing. When I sing it's like flying, soft and free.
At what age did you realize your fascination with books? When did you start writing?
Reading the Bobbsey Twins for the first time, I recall being annoyed because Flossie and Freddie were older than I was, so I must've been four or five (they were six) when I started reading. My dad's a secondhand bookseller so there's never been a time when our house wasn't chuck-full of great books, and there's never been a time when I can't remember loving to read. I suppose writing my own books was a natural progression from that, and writing does run in my dad's family. I wrote the first story in memory when I was around six or seven: "Lucy Larson", a menage of episodes in Lucy's life, including one where she went blind and immediately afterward had a successful operation to cure that.
Who are your favorite authors to read? What is your favorite genre to read. Who Inspires you in your writings?
To narrow them down to three, my very favourite authors are J.R.R. Tolkien, C.S. Lewis, and John Buchan. The Lord of the Rings captured my heart the first time I read it. I loved Narnia as a kid and I still do now. Buchan is a more recent favourite; I read The Thirty-nine Steps and it was fantastic. My favourite Buchans are the four Richard Hannay novels. (RH is my only real literary crush since Aragorn.)
The influences I'm most aware of in my writing are Tolkien and Michael D. O'Brien, a Catholic novelist who also writes a lot about the use of symbolism in fantasy and such. I wouldn't have been writing fantasy if it weren't for Tolkien, and as a Catholic I have found O'Brien's essays super-helpful.
Tell us a little about your latest book?
Seascape is the story of an orphaned peasant boy who would do anything to protect his little sister from the evil Illyrië. This is my second book and took me about ten months to write.
When faced with the impossible and the unthinkable, choose the impossible.
All that fifteen-year-old Einur Landman has left in the world are his flock of sheep and his beloved little sister. The entire purpose of his life is to keep Lody safe from the Illyrië. But what he never expected was that it would be his own name that was drawn for the child sacrifice. Leaving Lody with his promise to return, Einur escapes into the wild where he meets a stranger who outlines a way to bring down the Illyrië. Forced to choose between the unthinkable – Lody's probable death – and the seemingly impossible, Einur takes the latter.
In his quest from his mountain village, through countless dangers, to the sea itself, everything Einur believes will be tested. For Lody's sake, can he make a final crucial choice and stand firm to the end?
My absolute favourite character is… I actually have no idea. I suppose you could say 'twas a tie between Einur and Lody. Lody is the darlingest. She's eight; their parents died when she was just three, and almost-nine-year-old Einur insisted on caring for her himself. So he's all the parents she has ever known, and their relationship is very sweet.
Einur on the other hand is a little mistrusting and suspicious, although when it comes to Lody he's as soft as anything. Underneath his brusque exterior, however, you can see he's just a teenaged boy who's hurt and alone. He has Lody, but he knows there's something more to look for, and his journey to the Master is just as much a part of the plot as the destruction of the Illyrië.
Connect with the Author on their Websites and Social media profiles