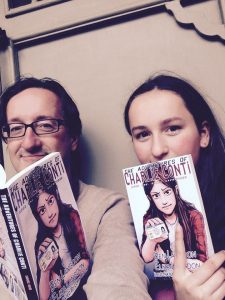 Featured Interview With Ben and Eliza Langdon
Tell us a little about yourself. Where were you raised? Where do you live now?
Eliza is thirteen years old, enjoys binge-watching TV series and goes to high school in a small coastal town in Victoria, Australia. She really loves animals and has a small community of guinea pigs at the moment, which she shares with her little brother, Luca.
Ben is Eliza's dad, and is a school teacher and author of superhero fiction. Funnily enough, he lives in the same coastal town as Eliza and ends up having to take care of her guinea pigs when she gets distracted.
Together they spend lots of time talking up new worlds, exploring characters and situations, and basically imagining together. Most of the time it's exciting and full of enthusiastic energy – while at other times it gets a bit silly!
At what age did you realize your fascination with books? When did you start writing?
This is a funny story. Over the Christmas holidays of 2014-2015, Eliza came into the lounge room and flopped on the sofa. "I hate reading!" she said. "Why can't they make movies of all the books because I'd prefer to watch this than have to read it."
As an English teacher, Ben was aghast.
Right then and there, Ben and Eliza worked together to create a character that would hook Eliza, and a story for that character which would be such a page-turner that she'd change her ways. And so, Charlie Conti was born and her first adventure: Small Sacrifices was written.
Eliza is now a voracious reader and consumes Jacqueline Wilson books like you wouldn't believe, as well as pretty much anything she can get her hands on.
Ben's been a comic book reader since he was 14 and for the following four years he didn't really read anything except the exploits of the Uncanny X-Men. The good news is that this foray into superhero comics helped make him into a superhero fiction writer. He's been writing for the past seven years and has written two novels, edited two short story anthologies and been on a couple of comic con panels talking about heroes and superhero fiction.
Who are your favorite authors to read? What is your favorite genre to read. Who Inspires you in your writings?
Eliza is a huge fan of Jacqueline Wilson books, which is good because there are SO MANY of her books out there. She likes to read about girls her age or a bit older, and enjoys problems that come up in their lives.
Ben loves reading anything, but some of his current favourite authors are Favel Parret, Christos Tsiolkas, Patrick Ness and (most recently) Nnedi Okorafora.
Tell us a little about your latest book?
The Adventures of Charlie Conti is about a 14 year old girl who is forced to move to a new town and a new school because her father is a down-on-his-luck, two-bit super villain minion who has a bounty on his head. They are forced to go into hiding in a small coastal town, and it's here that Charlie tries to make a normal life for herself.
She has to look after her incompetent father and her over-excited little brother, while also making new friends (and enemies), falling for the wrong kind of boy and slowly realising that something is very wrong with the town of Henty Bay.
The book is illustrated by Lorin Olsen and it was a fantastic experience working with two authors and an illustrator to come up wth the characters and settings. Loren would work on a picture based on Eliza and Ben's descriptions, and then when the picture came back it would impact on the story. So it was a back and forth process.
The end result is that the characters really live.
Charlie Conti is a girl you'll come to love and you won't forget.
We hope you'll take a look into her life too.
Connect with the Author on their Websites and Social media profiles
Ben and Eliza Langdon's Website
Ben and Eliza Langdon Facebook Page