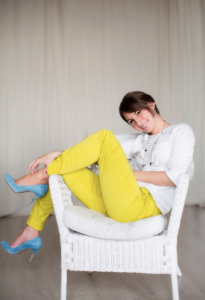 Featured Interview With Anastasia Zaloga
Tell us a little about yourself. Where were you raised? Where do you live now?
For 5 years Anastasia was an accountant and whiled away boring days doing routine work. But one day she decided to change everything. Today she is a successful psychologist and journalist. Her methods of work are so effective that the results of her clients look more like a fairy tale. Anastasia writes for such publications as Cosmopolitan and Psychologies. She says: "The main results of my efforts is clear when there are positive changes in people's lives." This personal motto has been confirmed by her successful work for 6 years and multiple positive reviews.
At what age did you realize your fascination with books? When did you start writing?
3 years ago.
Who are your favorite authors to read? What is your favorite genre to read. Who Inspires you in your writings?
"Crime and Punishment", Fyodor Dostoyevsky
Tell us a little about your latest book?
My latest book is "How to Love Yourself. 50 Ways to Improve Self-Esteem".
It is a diary – an excellent tool for working through self-love. Everything is simple! Ten minutes every evening and in 30 days you are in love with yourself.
If you don't love yourself, you're not satisfied with yourself and the results of your life up to that point. When you compare yourself with someone else over and over, you feel disappointed. When you criticize your every action, you're always unhappy. Your reflection in the mirror doesn't create positive feelings, but rather becomes another source of negativity.
Sometimes you may truly believe that you are the biggest loser ever. You often ignore your own needs and desires. You lack love. If you're single, you strive to attract your soul mate and hope that with his coming you will feel loved. At the same time, you think that there may be no one who could love you.
If you have a partner, his love is not enough. You live with a feeling of not being loved, appreciated, or respected enough. You blame yourself constantly for any mistakes that have happened in your past. "How could I have screwed things up so much?!" – you angrily think. Not loving yourself is not only an internal and invisible process, but it affects your life, too.
How does low self-esteem affect your relationships? Well, your partner behaves in such a way that he is not afraid of losing you. He may promise (and quickly forget), he may insult you, cheat on you, and still pretend that all is fine. He may even hit you. This behavior doesn't cause any active resistance from your side though.
Of course, you may complain about him but most likely, you tend to tolerate the behavior. Your self-esteem is too low and his dignity is too high. In this case you're afraid to lose "your tormentor" and you live with the dead-end belief that you will meet no one better.
People with low self-esteem are prone to explicit and implicit jealousy attacks. With a certain periodicity you'll be jealous of your partner's past relationships, casual small talks, and his colleagues. Coming up with a reason for suspicion is not a big deal for you, you're good at this. Stupid jealousy is what hinders the healthy relationships.
As for the girls who are not in relationships, the low self-esteem is not less destructive. It may be hard to believe that there will be a man who can fall in love with you with all his heart! Sometimes a girl doesn't allow relationships with a man to develop, believing that he is too good for her. With similar actions (or inactions) you simply push a new boyfriend away "give" him a more worthy, in your opinion, woman.
Lack of self-love pushes you to conquer the men. You don't believe that the members of the opposite sex may be interested in you. Therefore, as soon as you meet an attractive man, you start to run after him and show an excessive interest. This most likely will lead to nothing and may scare this man.
Your low self-esteem may also affect your career success. Sometimes, you may be afraid of sharing your own opinion and thus block any opportunities. You seem to be no one special, and therefore, your results have little or no value. This is why you choose to sit quietly and not stick out! If you created something, you would definitely be showered with a wave of criticism!
Lack of self-love makes you less demanding in regards to income as well. This is why you may work in a low paying job and earn less than you serve. Your life strategy is to tolerate poor working conditions and a bad attitude of your manager.
Your self-esteem cannot but affect your quality of life. It's enough to look around and note the conditions in which you live. You may put an equals sign between self-love and everything that surrounds you. After all, your surroundings are just a reflection of your inner self-attitude. Increase your self-esteem and your life will improve!
Connect with the Author on their Websites and Social media profiles
Anastasia Zaloga Facebook Page